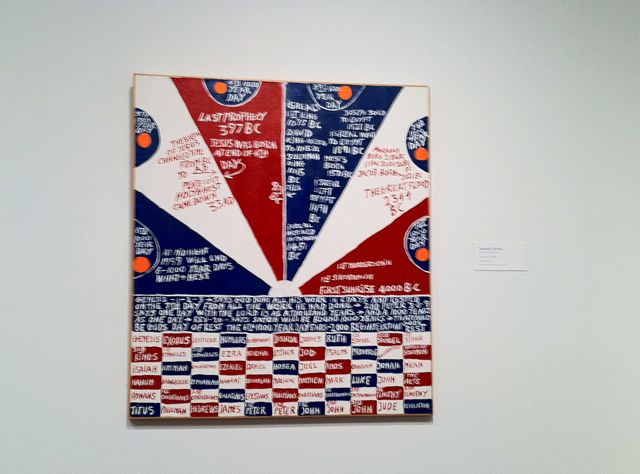 2Pe 3:8
But, beloved, be not ignorant of this one thing, that one day is with the Lord as a thousand years, and a thousand years as one day.
We were in the American Folk Art room at the Milwaukee Art Museum.  There was a painting by a little known folk artist; a pie chart of history according to the Bible.  Blue, White and Red pie shapes, each pie representing a "one thousand year day" and all of the "important" events that occurred on that 1000 year day, like the first sunset, the great flood, and the birth of Jesus.
I like that crude pie chart.  I get it.  It has been two years since Tuesday's passing, but it feels like 1000 years. It feels as I've lived a hundred lifetimes and that it's only been 1 day since I held her last.  A lot of "important" things have occurred, but the only thing that the stands out is that my daughter just died.  Can I still stay just died?  After all, It's been 730 days, or 730,000 years, according to the pie chart in house paint on a plank of wood.
The heart doesn't know time, but the soul can't deny it.  My heart  aches as it did the first day and the 100th day and as far as I can tell, will still ache on day 1000.  My soul, however, feels the sadness and the cold and the dark of January even without a calendar or reminders of the date.  It feels that this is the season that she died and I would feel that even if I were in a cave for a year.  Or 1000 years.  or a day.  The soul knows.
2 years.
I still feel like a high functioning sociopath.
I'm happy/I'm sad.
I'm getting my shit back together/I'm a mess.
I'm hopeful/I'm pissed.
I'm better.
I will never be better.
I'm ready to get off the rollercoaster.
But when we get to that last hill, it just starts climbing again.
Time does not heal all wounds because time is of no matter.  1 day or 1000 years; it's all the same.
This doesn't meant that there isn't healing.  We are healing.  We are different, but we are healing.  I've found that when you don't recognize yourself, its best to return to those things that have always brought you joy.  There is a lot of focus on travel and music and art and friends and giving.  I've also found that sorrow and pain should be welcomed.  Sit with it and hold it's hand.  It will only stay just long enough, and then you can go back to the travel and music and art and friends and giving.  Feeling the pain big gives way to feeling the joy big.  There is much to be thankful for and much to enjoy.  I'm choosing to enjoy.
After all, this will all be over in a day.